It's kind of funny, I used to even think of myself as primarily a bass player.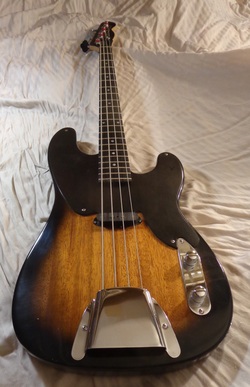 Now I've finally built a bass. It's got more information on the site, so check it out if you're interested. It's for sale. I haven't established a price yet, but somewhere around $2k. Pretty, eh?

I'll be posting some photos of another Hamm-tone bass that is close to completed soon. It will be a little different. It's got a flamed maple drop top with an aqua-black burst, mahogany body, highly flamed maple neck (blonde), ebony fretboard, fan-fretted with a 31.25" to 33.1" scale, Bartolini pickups and a Jaguar-esque shaped body. That one is sold already though.