Acoustic Guitar Building Course: 5 Week Duration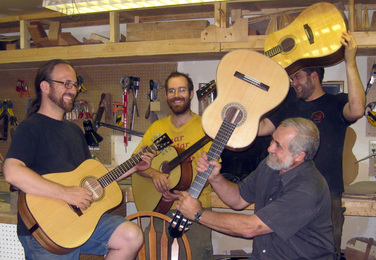 My shop and the Hamm-tone Guitar building and repair school is excited to be re-opening in down-town Winnipeg, September of 2017! The address is 329 Cumberland Ave., in the popular Exchange District, a stones throw from the Winnipeg Jets Arena , the iconic Burton Cummins Theatre and much more! Winnipeg's music scene is among the best in Canada, so get ready to experience complete musical immersion!
-Each student has their own workplace/bench and set of tools. Basic hand tool experience is definitely an asset, but not required. Each student is expected to demonstrate a willingness to learn and respect for their tools. In order to effectively teach a modern small-scale guitar making method we use a combination of both hand tools and power tools. Students can choose between a steel string acoustic guitar and a classical. I encourage you to come to the course with a good idea of the style of guitar you would like to build and the body shape. Even general dimensions are a good idea. Because this course is 5 weeks long, we have to find a good balance with our time.

With the 5 week course we cover the following:
-guitar design
-mold making
-joining tops and backs
-thicknessing wood using both planes and thickness sander
-inlaying rosettes & cutting soundholes
-bending sides
-bracing and voicing soundboards
-rim construction and different methods of assembling the body
-binding techniques: Only using solid wood binding
-dove-tail joints, the traditional American method for fastening necks onto guitars
-neck construction/carving
-headstock design and making
-fret-board slotting and radiusing
-basics on inlay
-fretting the neck
-french polishing and lacquering
-bridge construction and fitting &glueing
-nut and saddle making
-buffing
-setup basics: intonation, action, neck relief, fret dressing

Features found on Hamm-tone student built guitars that are often not covered by other schools:
-domed/radiused tops
-solid sides with interior lamininations, giving stiffer rim and more resonant soundboard
-dovetail joint with 2 bolts
-mild cantilevered neck (option)
-if time permits, I demonstrate sunbursting.


---
We cover every detail that a guitar builder will come across when building and make sure to oversee our student's progress along every step. I like to explain every part of the guitar in such a way that I can help give a realistic understanding with regards to the mechanics of the instrument. I think that it's a wonderful thing for a guitar player to have the ability to know their instrument and be able to identify problems, troubleshoot and fix their guitars in the future. This course helps debunk a lot of myths and give people the confidence that they may not have had otherwise. The guitars that have left this shop built by my students have exceeded my expectations on a regular basis.
Cost of the course is $3250 Canadian, plus applicable taxes. This includes the cost of the materials. A $750.00 deposit is required prior to the start of the course to ensure a spot is saved for you. The guitar you build here is the guitar you keep!

High-school diploma is required and minimum age 18 years to participate.

---

About the shop: The new shop is a pretty generous size. It has a main work area where the individual benches are, a machine area, a finishing room which is well ventilated and equipped with a pretty nice stationary buffing arbour. There is currently a maximum of 4 students per session to ensure quality student/instructor time.

Upcoming Acoustic Guitar construction course dates:
​
5 Week Acoustic Guitar Building Class, from scratch: April 30-June 1, 2018
5 Week Acoustic Guitar Building Class, from scratch: September 10-October 12, 2018


Where we are:
Hamm-tone Guitars
329 Cumberland Ave, Suite B2
Winnipeg, Manitoba, Canada
​🇨🇦



Email me at: jeremyhammtone@gmail.com
​or call 204-894-3834