The Pokey LaFarge Hamm-tone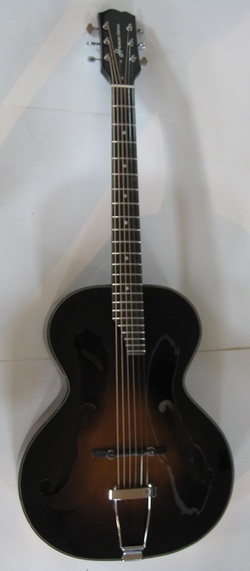 This guitar is a copy of the '41 Epiphone Olympic. It's pretty close but not exact. I always like making a few changes or many changes for that matter on guitar replicas.
This one has flamed maple back and sides, rather than the walnut back and sides like the original Epiphone Olympics. I think that the next one I construct will have walnut back and sides though, as there is a bit of a tone difference that comes from the wood on a guitar. The walnut is a little bit drier, more low end growl in tone. This maple version is very snappy and a little bit sparklier.
The neck on the Epiphone version is mahogany, mine is Narra. Narra was chosen because I didn't want to use maple, I wanted a wood that had a density similar to mahogany but didn't have the same political connotations. The neck profile is also very similar to the Epiphone, which is one of the Epiphones greatest features. It's slim, not too thin, but definitely not to thick or fat or wide or big or gargantuan. Arched laminated (just like to original) back, solid sides (just like the original) and carved spruce top (just like the original). The neck is adjustable at the head stock, the original has an allen key adjustment point for the truss rod at the body side, beneath the fingerboard. I must admit, I've grown quite fond of the way I do it at the headstock the past year or so and don't believe I'll go back the the body side of the neck for the allen head of the truss rod. This Hamm-tone also has a dual action truss rod, rather than a single. Every one always know a dual action is better than a single action, right? The Hamm-tone also has more purfling, ebony binding, rather than cream plastic, and has a bound fingerboard.
A few years ago I ended up meeting Pokey LaFarge at the Winnipeg Folk Festival and he came to the booth a few times and ended up playing this guitar. He played it a number of times until he decided that it fit him somehow. I was happy about that. It's in his lineup of guitars that he uses on a regular basis. I'm kind of flattered. :)
http://www.acousticmagazine.com/interviews/pokey-lafarge/