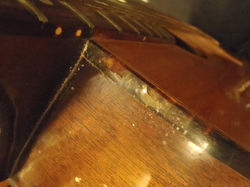 Q & A
Question:
My ex-wife at the time in 1974 bought this Gibson B-45-12 Deluxe serial # A60**** in St.Catharines,Ont. at Ryersons Music.I checked the blue book on line and verified the serial number as either 73' or 74'.She saw that it needs some TLC and gave it to me as I have some building skill and she doesn't play it much anymore.It sounds great even with dead strings but has surface wear and binding issues.Please see the attached photos.
I watched a video Stewart-McDonald's Dan Erlewine did on some celluloid pickup risers on an old 50"s archtop that looked like the same material with cracking issues.He used some acrylic fake tortoise pick guard material.I'm trying to decide whether to replace the biding with something or remove the flaking lacquer if thats all it is and leave the cracks and redo the lacquer if I can get the same stuff.The other options are to take it to a pro somewhere or just leave it.Any experience or advice on this one.
Answer:
With your old Gibson, I've got an idea. If the binding is celluloid, it should respond to a "nitrocellulose lacquer thinner retarder" the same way the lacquer does. If you find a paint shop, something that sells nitro based stuff (which is now banned) and ask if they have "Cellu-solve". It's a clear mellow smelling liquid that helps with finish problems. If I was working on this Gibson you're telling me about I would get a jar of the stuff. They should either charge you very little for it, or give it to you for free, because for this job you'll only need 10 or 15 ml of it. Maybe bring a jam jar for them to fill up, that's what I did. I got mine about 5 or 7 years ago from Western Paint in Winnipeg.
The method I'd use for this procedure would be quite simple: I would use a small "model car type paint brush" and carefully paint the cellusolve in a conservative manner onto a small area of the binding, perhaps on the treble side waist of the back, so it's in an inconspicuous area just in case it doesn't work well. The cellusolve is typically used for softening nitro lacquer, it helps re-constitute old dried out lacquer (nitro) and most often makes the old lacquer stick back onto the wood. If you paint it in such a way that it bleeds behind the areas where it's no longer attached to the guitar, it will dry in a span of 15 minutes to 3 hours or so, depending on how thick it is. After it's dry, you can scuff sand and touch up with nitro lacquer or you can just leave it as is, it will look much better.
Now, one other thing that I'm thinking is that with the binding (because it's cellulose) there's a good chance that it will seep into the cracks on the binding and actually end up gluing it back together. I think you'll like the stuff. I'd give you some of mine, but I actually dumped my jar over a few years ago, then scooped it of the bench quickly and back into the jar, complete with saw dust and wood shavings. I only have about 50 ml. left. I think it's still got to be available some where. It's nearly magical.
I once had a customer who bought a mint 1970 Gibson J-50, square shoulder model. It was mint. One night he took it to a jam and a drunk pal of his scratched the top up like nobody's business. He was mortified. He called me up, I got the guitar and used the Cellu-solve and it made all the scratches disappear (of course with some effort and touch up lacquer too). Anyway, there's a long little rambling story about how you may be able to fix the finish.
I recently found an article online about this matter, and it's fantastic. Click here to check it out.
---