The 3 Week Electric Guitar Building Course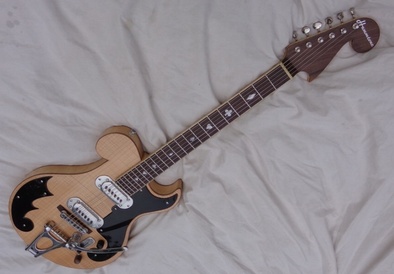 It's been a few years now that we've offered the 3 week electric guitar building course. I've realized that our course actually provides more in depth training than a significant number of the more popular courses available in North America. We cover every aspect of electric guitar construction in this course, other than winding pickups and making hardware. The electric course is limited to 5 students in order to maximize the instructor/student relationship. Many schools run anywhere from 7 to 20 students.
The basic idea of the electric course is to provide students with a good basic fundamental understanding of their instrument. We build the guitars in the electric course with the bolt on style neck design. You can choose either standard Fender style screws and neck plate, or you can do it my way which incorporates 3 or 4 threaded female fasteners that are implanted into the neck and 3-4 machine bolts with allen key heads. They look pretty classy and are really strong. I prefer the bolt on method because it allows you to repair the guitar more easily in the future. It also makes it easier to hot-rod it if you wish.
You can build a tele style guitar, strat style, Les Paul Jr. style, SG style, or anything in that vein if you wish. Also, if you're a bass player, you can build a bass if you want. The neck just may take a little more sanding than the 6 string guitar necks! We make templates, join the wood that will end up being the body. We build the necks, thickness the fingerboards, cut the fret slots, fret and if it's a maple fingerboard we lacquer it. We cover a number of different finishing methods, from oil to shellac to waterborne and nitro-cellulose lacquers. When I say "cover", I do not mean "just discuss it, and you do it at home" I mean: "we will be preparing the body for finishing, choosing the type of finish, applying the finish, letting it cure and wet sanding and buffing it out so it looks professional". I mean business. There's no point in you wasting your time, hoping you're going to learn a skill and then realizing a course does not actually "cover" the topic. We do it here. You learn it here. Next we wire the guitar, assemble all the parts and set it up. At the end of the 3 week course you will have a completed guitar. This is not the type of course where things are prepared for you either, it's not a kit. YOU are the one who will build the guitar and I will be the one guiding you along in such a way that no train wrecks occur! On top of that, I've made every mistake in the book, so if you mess something up, don't worry! I'll help you fix it in a professional and timely manner, but you still have to be careful!

We've had people from all over the world for this course; people from many different backgrounds. From industrial arts teachers, engineers, musicians, lawyers, dentists, highschool graduates, cabinet makers, house inspectors, plumbers, welders, computer programmers, physicists and even politicians! Everyone goes home with a good guitar and some experience and skill that can be applied to the next musical instrument project!
Price for the course: Tuition is $1750 plus GST. The parts/materials are extra. In order for this to work, I require that prior to you coming out and studying here we sort out exactly what type of guitar you plan on building, the parts and materials you will use. I will compile the list and order the materials once you pay your deposit (which is the cost of materials). Accomodations are extra, but there are a couple Bed and Breakfasts in this village of ours (La Riviere, MB) and there are also two motels. The La Riviere Leisure Inn is the closer of the two.
In summary, this is quite likely the best value a person can get in North America with regards to finding an enjoyable introduction into the world of lutherie. Please feel free to email me with any other questions you may have! Hope to see you soon! -Jeremy
Email me at: jeremyhammtone@gmail.com


---
What you can expect we will cover:
-Guitar design
-basic power and hand tool use
-template making
-joinery
-neck construction
-fitting trussrods
-fretboard making
-drawing a wiring diagram
-wiring and soldering
-fretting
-finish work
-making bone nut
-headstock design & construction
-optional binding
-setup work and fret leveling/dressing
-you will leave with a completed guitar!

Upcoming Electric Guitar course dates:

--November 14th-December 2nd, 2016--ONE SPACE LEFT!

​2017 Dates posted HERE


Space is limited, so don't delay!






Where we are:
Hamm-tone Guitars/Pembina Valley Luthiers
613 Valley St.
La Riviere, MB
R0G 1A0





​If you're coming out of Winnipeg, take the #3 where it intersects with the Perimeter Highway near Oak Bluff. Just keep on going south west towards Carman, then at Carman at the lights you turn south; still on the #3. You'll travel south for about 20 minutes, then at the next set of lights, the #3 jogs straight west. Stay on the #3 going west straight through Morden. If you like Tim Hortons coffee there is a Tim's on the right hand side on your way through the town. After you get your coffee, keep going straight west for about 30 minutes, through Manitou and voila! As soon as you hit the hills, that's your gate into La Riviere. Once you're in town, drive to the big huge fiberglass wild turkey statue, turn left, look to your right, and the big red brick house around the corner by the park with the attached shop & red door is the place!