About the luthier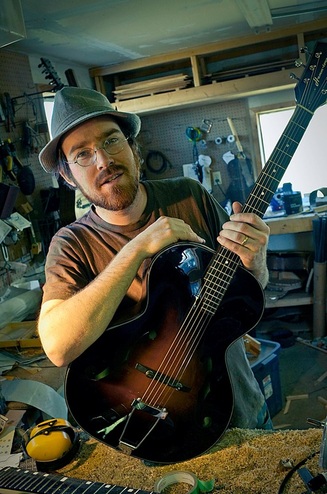 N. Jeremy Hamm (Hamm-tone) grew up in southern Ontario. His father, Nicholas Hamm III, was a mechanical engineer for John Deere for 30 years, and his grandfather was the mandolin player for the original "Lincoln County Peach Pickers", the first recorded bluegrass band in Canada from the early 1950's on. It was only fate that he fused his two strongest character traits, mechanical ingenuity and musical intuition, to become a popular and successful guitar builder in Canada.
From an early age he took piano lessons, then began studying the classical violin at age 7 until the end of highschool. Playing in the Niagara Youth Orchestra, high school jazz band, concert band, numerous bluegrass, country and rock bands, his musical knowledge runs deep. He is not only a respected luthier, but a respected musician in the Canadian music scene.
In the mid 1990's he began repairing school instruments and friend's guitars, then entered the world of guitar building in the late 1990's. He studied initially with David Freeman, Brian Dubbeldam (student of Frank Dick), met Allan Beardsell (pupil of Sergei DeJonge) and at that point tried to modernize his building methods within the small scale building framework. Jeremy was fortunate enough to spend some time with Grit Laskin, learning the "Laskin method" for inlaying and engraving. Grit is the most respected guitar inlay artist on earth. Jeremy has worked on thousands upon thousands of guitars while managing all string repairs at a Winnipeg music store Quest Musique for nearly 10 years. He currently builds full time, and even does the occasional tour as a guitar tech; most recently for Oli Brown while supporting Joe Satrianni's world tour in Europe. Jeremy has quite the roster of professional full time musicians who both record and tour with Hamm-tone guitars.
In 2009 Jeremy moved from Winnipeg to La Riviere, Manitoba; a small farming community in the beautiful Pembina Valley just north of the U.S. border. It is there that he runs his guitar building school teaching people from all over Canada, the United States, Europe and Asia how to construct guitars the "Hamm-tone way". The method bridges old and new methods, using modern tools that are readily available as well as traditional tools that have proven themselves in the trade. Most people leave the guitar construction course with a guitar that exceeds their expectations in most every way.
New for 2018, we moved the shop to Winnipeg, based in the Exchange District. The urban life is quite different from the rural, but business is good. This company is one to watch as the quality consistantly increases year to year, the prices are very reasonable, excellent fit and finish, and they have exceedingly great tone and projection.


---